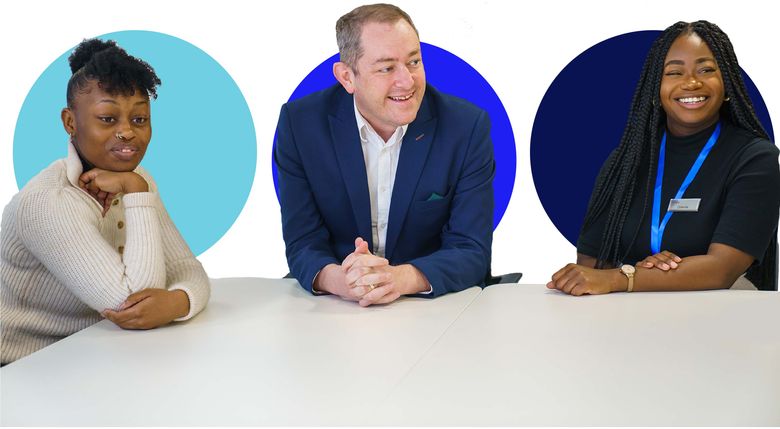 Work that changes lives for the better.
About Us
Reed in Partnership's mission since 1998 has been to deliver services that positively transform people and their communities.
We do this by providing public services that help people to change their lives for the better.
We're proud of the difference we make. Our teams have helped millions of people who have used our services.
Here's an idea of some of the things we do.
Help unemployed jobseekers to find work
Run Test Centres that certify people's skills and knowledge
Support young people to fulfil their potential
Provide advice to vulnerable individuals, such as asylum seekers
Offer students access to great careers guidance
Enable prison leavers to positively reintegrate into society
Help businesses to succeed through good recruitment
Our jobs are interesting and fulfilling. By joining our team, you can play your own part in our mission.
Search Vacancies →
An award-winning workplace
We have an on-going strategic priority to make this a great place to work.
We are a family-owned company. We think this makes us unique compared to a lot of other companies. It is fundamental to the way our workplaces operate, the decisions we make and how we treat each other.
Our workplaces have been recognised for multiple awards. Most recently we were really proud to be presented with three UK Employee Experience Awards in 2022: Gold for Best Talent Management Programme, Silver for Diversity and Inclusion and Bronze for Best Large Company to Work For.
Why I love working here
"Knowing the work we do has an incredible impact on people and their wider communities makes the positive results we achieve even more rewarding!"

David, Senior Operations Manager
"I get to use my skills every day. I work within an amazing team and the company culture is positive, innovative and caring."

Nicola, Head of Supply Chain Development
"I am grateful to be a part of such an understanding, progressive company that guides and mentors you into becoming the best version of yourself."

Michael, Employment Adviser
"My job enables me to support a wide range of individuals with their goals - even a small word of advice or suggestion can really impact people in a great way."

Lucy, Product Executive
"We live by our values, there's always something new and exciting to get involved in. The best part is knowing that every one of us has an important role to play!"

Vicki, Head of People (Employability Services)
"I love the fact that I am helping improve people's lives through work and love the support I get and how valued I feel as an employee."

Kane, Key Worker
"I am empowered to bring my best self to work every day. I am valued for who I am and my contribution is recognised and rewarded."

Kosta, Associate Director for Leadership and Management Development
"It's more than just a job. There is real purpose in the work that we do. I truly feel joy knowing I am making a difference."

Nick, People Project Manager
"I have had numerous opportunities to progress, and I am continuously recognised and rewarded for my hard work."

Kat, Business Manager
"I have been offered so many opportunities to grow professionally and personally. The support and investment in employees is second to none."

Danni, Continuous Improvement Manager
"It is a genuinely supportive culture, with everyone working towards the same goals. I have fast-tracked my development beyond where I thought I'd be at this stage of my career."

Daniel, Head of People (Shared Services)
Our divisions
Each of Reed in Partnership's four divisions focuses on a type of service delivery. You can find out more about each of them – and the roles we offer – here:
Our Support Teams work with all four of our divisions to help them succeed.
Business Development
Business Intelligence
Business Systems
Continuous Improvement
Finance
Implementations & Projects
Marketing & Communications
People and Learning & Development
Product Innovation
Risk Management
Safeguarding and Health & Safety
Search Vacancies →
The Reed Group
Reed in Partnership is part of the Reed Group of companies.
The Reed Group encompasses 11 companies all created with the purpose of 'improving lives through work', to help work, work better for everyone.
Since it was founded in 1960 by Sir Alec Reed, the Group has been committed to continuously looking for better ways to help people and businesses on their journey through the world of work, whatever that may be.
The Reed Group has a unique perspective, gathered from all our specialist businesses across the globe in different areas of the talent economy.
Find Out More →